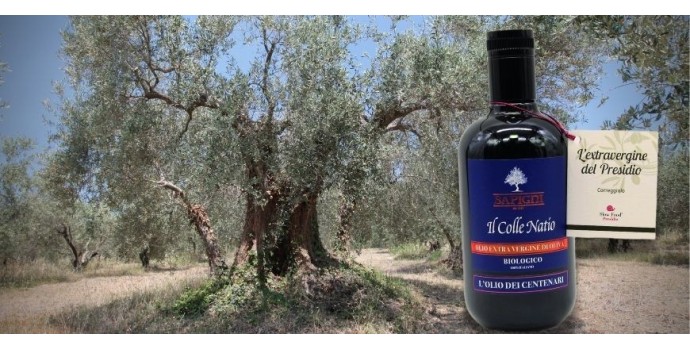 Colle Natio dei Centenari oil is born
Thanks to the centuries-old trees of the olive grove that has seen the care of great-grandfather Giovanni - Slow Food 2021 Presidium
From the care and commitment of great-grandfather Giovanni Sapigni, we can now taste an oil from over 100-years-old plants of the Sapigni olive grove. A prestigious olive grove, thanks also to its position, It is in fact located on the Romagna hills of Rimini, precisely 190 meters above sea level, in a place that was once called Poggio Berni ("E Póz" in Romagna), today Trebbio di Poggio Torriana. The political borders, the names of the cities change but if well kept the olive trees resist, even for hundreds of years and the geographical area in question is proof of this, despite the years it still maintains the extraordinary characteristics that have always contributed in the production of excellent oils.
A slice of land that enjoys particular climatic conditions which, together with appropriate agronomic practices, determine the production of an oil of particular value, able to stand out. In particular, the extra-virgin olive oil produced from the olive groves existing on the hills of the Provinces of Forlì-Cesena and Rimini, is an oil with distinctive qualities, for its excellent organoleptic capabilities and its very low acidity, but still little known and worthily appreciated despite its objective quality.
The whole farm faces (the sun of the) South, the hill overlooks the valley of the Marecchia river, with the panorama of the Verucchio, Torriana and Monte Titano hills on which San Marino stands. To the North East there is the sea, the famous Adriatic of Rimini, about 18 km as the crow flies. The protagonist plants of this "show" are Rossina and, mainly, Correggiolo, a cultivar with a semi-pendulous habit, expanded and medium-thick foliage. It has a high vigor and its leaves are light green with an elliptical-ovoid shape.
The attention to detail and the passion lavished in over a century of work, has allowed the Olio Natio dei Centenari to become today a Slow Food 2021 Presidium, a certification assigned to products that comply with strict conditions, both from the point of view of cultivation, both in the manufacturing process