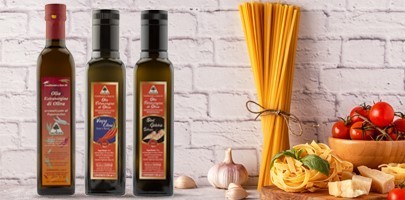 Natural condiments useful to enhance and enrich your dishes in the best Mediterranean tradition. The aromatic oil is a classic condiment of Italian cuisine. It is highly appreciated for flavoring many recipes, from the famous spaghetti with garlic, oil and peroncino to salads, pizza or dishes based on meat, vegetables or fish.
The secret of the excellence of Sapigni Aromatic Oils is the use of ingredients carefully selected for quality and flavor. In addition to our italian oil, a basic element of the highest organoleptic quality, we have chosen various types of chilli, to offer a variety of spicy flavors.

BUY WITH SAFETY
• Secure payments with PayPal, credit cards and bank transfer
• Accurate and safe packaging
• Fast delivery within 5 days
• Guaranteed transport by international courier
CUSTOMER CARE
Send an email to sapigni@sapigni.com. We will respond quickly.
Spicy chili oils of great quality and taste