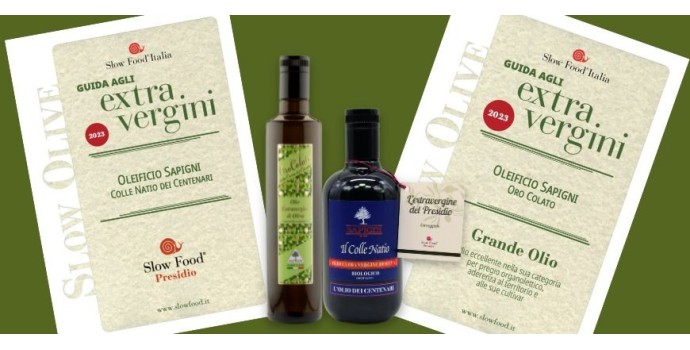 Slow Food awards for Sapigni: among the best italian extra virgin olive oils
We add two new awards to our already rich medal collection
Passion and dedication for the best extra virgin olive oil
We are thrilled to share with you that Oleificio Sapigni has won two prestigious Slow Food awards in the Extra Virgin Olive Oil Guide 2023. These are our 'Oro Colato' and 'Colle Natio dei Centenari' extra virgin olive oils. These awards underline the commitment and passion of our family in producing the best extra virgin olive oil from Romagna, made with sustainable and environmentally friendly methods.
Slow Food Prizes: excellence and territory
The Great Oil award is given to the excellent oils in their category, which stand out for their sensory characteristics, close relationship with the land and cultivars. In the Extra Virgin Olive Oil Guide 2023, Oleificio Sapigni's 'Oro Colato' oil won one of 82 awards out of 1227 quality oils in the guide.
The Slow Food Secular Olives Presidium, on the other hand, promotes the environmental, landscape, health and economic value of ancient olive groves of native cultivars. Among the 175 oils recognised this year as Slow Food Presidia in Italy is our 'Colle Natio dei Centenari'.
"Oro Colato": an award-winning extra virgin olive oil
"Oro Colato" oil is an award-winning extra virgin olive oil, rated three leaves by the Gambero Rosso Guide 2016 and Grande Olio d'Italia by the Slow Food Guide 2014, 2018 and now 2023. Characterised by an intense fruitiness with hints of freshly cut grass, artichoke and green tomato, it is perfect for tomato salads, grilled vegetables and barbecued meat.
"Colle Natio dei Centenari": the essence of Romagna's extra virgin olive oil
"Colle Natio dei Centenari" is an oil extracted from olives grown exclusively on the over 100-year-old trees of the Sapigni Organic Farm. With an elegant, harmonious and full taste, it goes elegantly with meat and fish dishes, vegetables and salads.
An important milestone for Oleificio Sapigni
"We are very honoured to receive further recognition from Slow Food Italy," say Marco and Emanuela Amati, great-grandchildren of Giovanni Sapigni. "These awards further encourage our family in continuous investments and repay us for the effort and care we put into our work, to obtain oils of the highest quality, always respecting the environment, consistent with the Slow Food philosophy".