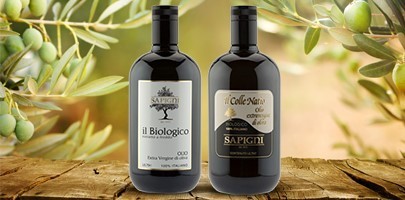 << New Oil 2023 >>
Our organic extra virgin olive oil comes from a scrupulous research and selection of the raw material. The olives, from strictly Italian certified organic cultivation, are processed as soon as they are picked and cold pressed in our continuous two-phase system. Latest generation and technologically advanced machinery ensure the maintenance of the organoleptic properties and environmental sustainability. We offer two types of organic oil, "Il Biologico" and "Colle Natio", different in flavor and aroma, thanks to the different varieties of olives and cultivation areas, both however of the highest quality.

BUY WITH SAFETY
• Secure payments with PayPal, credit cards and bank transfer
• Accurate and safe packaging
• Fast delivery within 5 days
• Guaranteed transport by international courier
CUSTOMER CARE
Send an email to sapigni@sapigni.com. We will respond quickly.
Superior quality Italian organic oil